Take a Glance at The New 2023 Kia K5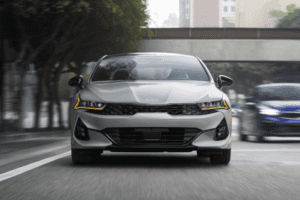 For class, turbocharging, and impressive 0-60 acceleration, the 2023 Kia K5 is one vehicle that should not be overlooked. For those who are searching for a new vehicle that is not only classy but also equipped for all-weather performance, the Kia K5 (2023) has everything you need and more. From modern and stylish interior controls to comfort-centric technologies and powerful performance, the 2023 Kia K5 has it all for just about any type of driver. At Greenway Kia North, we can help you to find the perfect 2023 Kia K5 for you and your entire family.
Performance Matters
If performance is what you seek, the 2023 Kia K5 has it all. The 2023 Kia K5 GT outperforms the BMW 330i Sedan in both acceleration and overall handling while also offering up to 290 HP. With best-in-class 311 lb.-ft. of torque and traction-enhancing AWD available, the Kia K5 doesn't just look impressive–it is impressive in every way.
The 2023 Kia K5 includes a 2.5 L turbocharged engine with an 8-speed dual-clutch auto transmission (wet type). With 19-inch alloy wheels, a Quad-Tip Dual Exhaust, sport-tuned suspension, and a panoramic sunroof, you can hit the road in style every day. Additionally, the 2023 Kia K5 GT also includes heated GT Sport Bolster seats (front seats).
Safety and Security
Before getting behind the wheel of any new vehicle, compare safety and security features to ensure you feel comfortable whenever you are on the road. With the all-new 2023 Kia K5, maintain your peace of mind with an array of today's top safety and security technologies that are included in all standard models of the vehicle, such as: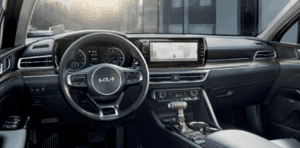 Smart Cruise Control: Smart Cruise Control, or SCC, helps drivers to maintain a safe driving speed once Cruise Control has been enabled while driving. With Smart Cruise Control in place, it is also much easier to prevent potential collisions, as the SCC technology will gently apply braking as necessary if a driver is too close to another.
Forward Collision-Avoidance Assist Technology: With Forward Collision-Avoidance Assist Technology, protect yourself and your loved ones if you find yourself too close to another object or vehicle on the road. The system included utilizes its own sensors and cameras to detect when another vehicle is too close, which will allow the system to apply brakes as needed.
Rear Cross-Traffic Collision-Avoidance Assist: For those who are seeking assistance with backing up and parking, Rear Cross-Traffic Collision-Avoidance Assist technology is included with all makes of the 2023 Kia K5. Detect potential hazards, obstacles, and vehicles while backing up with visual and audio warnings to guide drivers through the process from start to finish.
Comfort Technologies
Enjoy high-tech displays in your 2023 Kia K5 along with these comfort-centric technologies:
Bose premium audio system: Enjoy listening to your favorite music with a luxury surround sound Bose audio system included built into your vehicle's cabin.
Built-in displays: With a built-in 10.25-inch touchscreen, the 2023 Kia K5 allows you to easily manage navigation, your media, as well as your smartphone integration before you set off on a trip.
Kia Connect: Kia Connect technology is also included with the 2023 Kia K5, helping you to seamlessly integrate your smartphone, media, and GPS navigation requests.
Charging ports: Do you need a vehicle that allows you to charge your smartphone and other devices while you are on the road? If so, the 2023 Kia K5 may be just right for you. With 5 free USB ports and an available wireless charging port included in all models, the Kia K5 allows you and your family to stay connected and charged at all times.
Panoramic sunroof: Enjoy a panoramic sunroof to get the most out of the interior of your Kia K5 as well as the great outdoors.
With the 2023 Kia K5, taking advantage of today's top technologies is easier than ever for safety and maneuvering purposes. Choosing the 2023 Kia K5 is optimal for those who prefer to travel across the country on their own or for those who have a family in tow. To learn more about the available 2023 Kia K5 models in stock, stop on by or even take a look at our inventory online.